The structure and foundation of your home can weaken easily when your roof sustains damage, which is why it's critical to complete necessary repairs to keep your family safe.
As a family-owned and operated company, we know the importance of quality service and installation. Our integrity and meticulous craftsmanship make customized home roofing repairs or residential roof replacements that fit your budget and timeline. Unlike other roofers, who offer 20, 30, or 40-year warranties on materials and only 1 or 5-year guarantees on installation, SlopePro offers double the warranty so you feel confident in the work we've done.
How to Upgrade Your Fayetteville Roof
A new roof can feel like a frustrating and drawn-out process, but our established steps ensure you're satisfied with the timeline and quality of our work. We follow procedures to keep the project moving, such as:
We strategically evaluate every inch of your roof so that we can provide you with the most accurate information about its condition.

2. Receive a custom analysis and repair estimate

We don't upsell you. Our detailed report simply provides you with a competitive and transparent estimate to get your roof job done.

3. See quality results

We even take care of cleanup so you can appreciate your new roof the moment it's complete.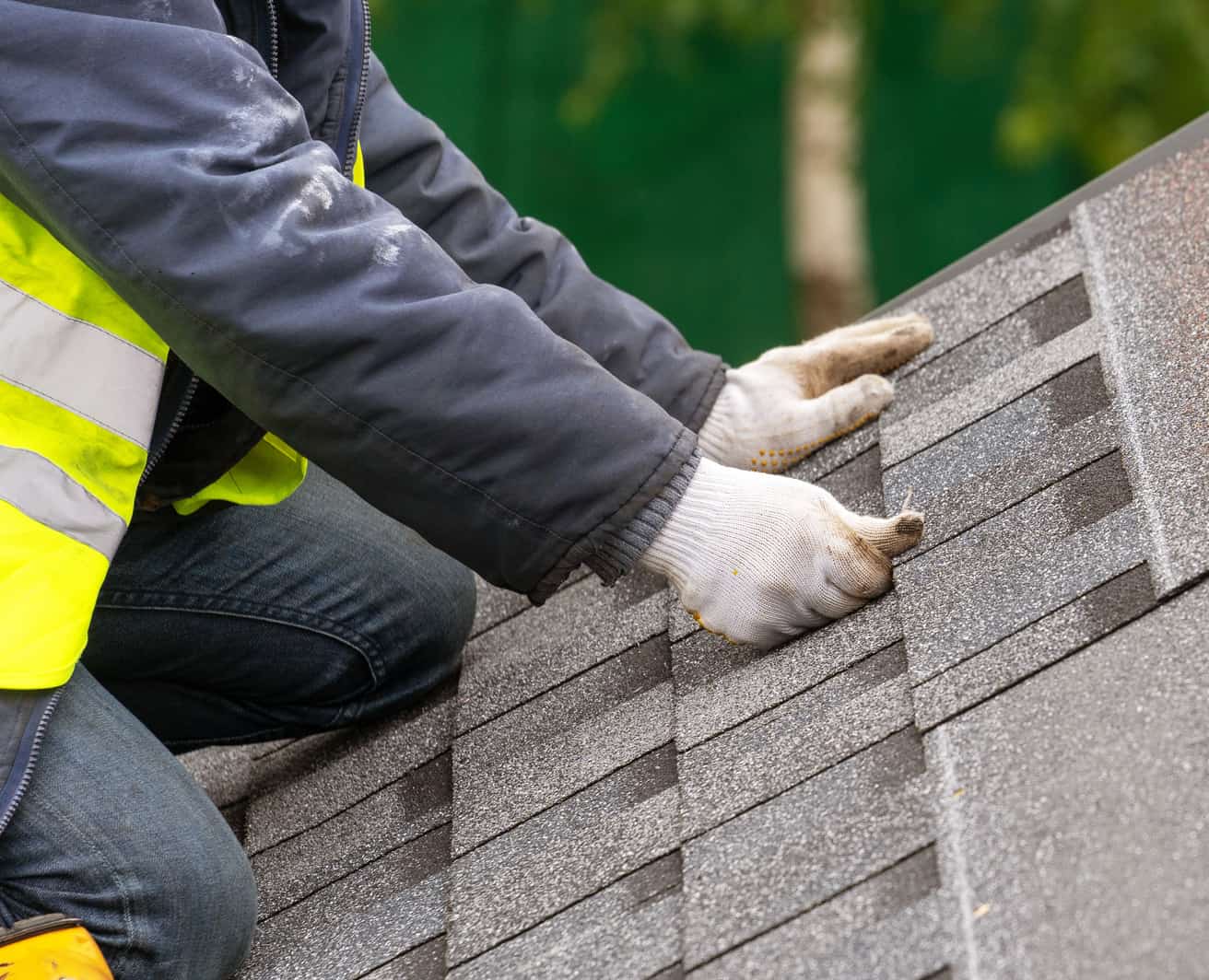 Fayetteville Roof Repair
Old roofs can sustain damage just as roofs that have weathered storms can. Our three-generation roofing company has experience repairing it all.

No matter the cause of your roof damage, always call a professional right away before minor repairs worsen and require more costly roof replacements. After we review the scope of damage and develop a repair strategy, we'll work with your insurance company to maximize your claim.
With our honesty and 12-Point Forensic Inspection, we identify all points of damage to the inside and outside of your roof. With this information, we're able to make accurate estimates of the timeline and cost to you so you feel equipped with the knowledge you need to get the project started.
Fayetteville Roof Replacement
If more than 30-50% of your roof is damaged, or if your roof is 20+ years old, it's likely more economical and effective to replace it than make repairs. A replacement means you won't have to worry about a new roof or severe damage for a long time.
We don't overlook any details, setting up your home with new, high-quality plywood decking, underlayment, shingles, fasteners, and flashing. All projects have a Master Roofer on-site because precise installation by trained craftsmen is the key to a long-lasting roof.
Storm Damage Roofing Services in Fayetteville
As a family-owned company, we know it's important to feel safe in your home after a severe storm comes through. We'll provide you and your insurance company with a detailed analysis of repairs so the damage is fixed efficiently and cost-effectively.
What makes roof storm damage dangerous is that not all damage can be seen without a professional eye. It's important to hire a Fayetteville roofing contractor who knows how to inspect your vent caps, downspouts, or shingles properly to find leaks and other issues. To help protect you and your loved ones from the elements, our team will ensure the job is done the right way.

Financing Roof Repair Services
Unless you've been saving up for roof repairs, you might not have the cash on hand to schedule immediate repairs. But our family-owned company knows how important it is to get the issue solved quickly.
That's why we offer roof financing options, with short-term, long-term, and 0% interest options, and payments as low as $97/month*. We're committed to working with you to meet your needs and get your home in its best condition in no time.
Factors That Impact the Cost of a New Roof
We craft a custom quote so we can identify the factors specific to your property that could impact the price, including:
Roof type (flat vs. pitched)

Roof material and style

The size of the damaged area

Whether the roof is easily accessible for repairs

The extent of water damage
Roofing Materials
Our professionals are trained to use every type of material and brand, so we can install anything you desire, including:
Repair or Replace Your Fayetteville Roof Today
Fayetteville is the perfect location for your home, with its local nature preserve and proximity to Peachtree City and Atlanta. With colorful murals painted on town walls and equally colorful houses, the cozy single-family homes of Fayetteville are a place you want to stay. But all of these homes are susceptible to roof damage.
While roof damage is unpredictable, you can rely on SlopePro for a seamless and professional repair or replacement experience, with satisfying results on a tight timeline.
Give us a call at (804) 251-3006 or fill out the form below to discuss your roofing needs today.
Fayetteville Roofing FAQs
---
How much does it cost to fix my roof?
The total cost of repairing your roof will be determined by various factors, such as the type of material used and the extent of the damage. For simple repairs like caulking, our Georgia roof repair services typically start at $350, while roof replacements can begin around $10,000.
---
Do I need a roof repair or replacement?
A preliminary visual inspection of your roof can provide some insights, but for a definitive assessment, it's recommended to arrange a professional inspection. If you observe missing shingles, granules in your downspouts, or notice water stains or leaks, these are clear indicators that you should promptly contact a roofing professional.
---
Which type of roof is best?
The ideal choice of roofing material depends on your specific requirements. For ultimate protection and longevity, a metal roof is highly recommended. However, if you prefer a more popular and cost-efficient option, asphalt shingles are a great choice. They come in a wide range of colors and can better complement your desired aesthetic.
*Per $10,000 financed.