Invest in your business with a new roof from SlopePro
As a business owner, you've worked hard to be a trusted and competent resource for your customers. So shouldn't your building reflect this same level of professionalism? With a commercial roof replacement from licensed and insured SlopePro, you and your business can enjoy massive benefits like increased curb appeal, improved sustainability, and reduced heating and cooling costs. That's why a commercial roof replacement is one of the best investments you can make in your facility and business.
Why SlopePro for Commercial Roofing?
You can trust the professionals at SlopePro. Our family-owned and operated roofing company delivers high-quality craftsmanship, cutting-edge materials, and—most importantly— prompt, professional service that won't disrupt your business. Plus, enjoy our Lifetime Transferable Guarantee* that matches material warranties with our quality service installation. (We're the only roofing company in Georgia and Virginia to do so.)
We're experienced in all commercial roof types and materials
"A new roof can yield over 100% of your original investment cost back to you upon resale."
– HomeAdvisor
Why you may need to replace your business's roof
We understand replacing your business's roof is a significant and costly decision, and we want to make sure you get it right. Since the average commercial roof can last about 20 years—depending on size and materials—replacing your facility's roof is ultimately necessary. With more commercial roofing options than ever, you may even consider a material upgrade to make your roof last and protect you, your employees, and your business even longer.
Signs it's time to replace a commercial roof
Leaking, stains, or mold
Pooling water
Sagging or soft spots
Missing or damaged shingles
Deteriorating flashing
Roof is over 20 years old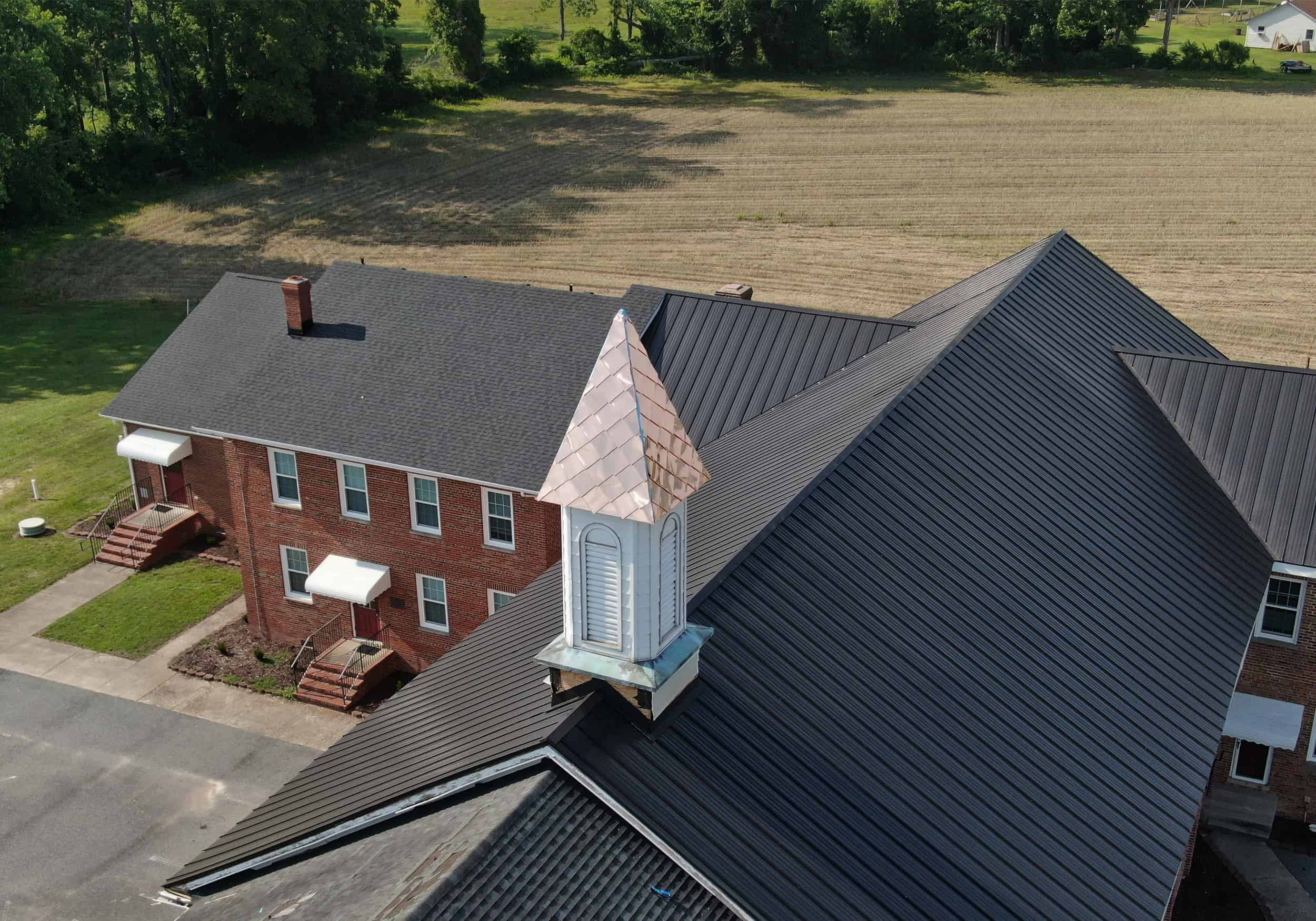 Georgia and Richmond Commercial Storm Damage/Emergency Roofing Services
Hail. Wind. Fallen tree. Has your business experienced any unexpected storm damage? Our three-generation roofing company has seen every type of storm damage in Virginia and Georgia, and we know the pressure insurance companies put on business owners to fix the problem fast. That's why SlopePro's roof storm damage assessments prioritize constant communication and easy-to-understand estimates so business owners can make quick and confident decisions about their facility's roof.
The cost of a new roof
For a total Georgia or Richmond, VA commercial roof replacement, you can expect to spend anywhere between $20,000 to $50,000, but keep in mind that a lot of factors can influence the price, including
Roof type (flat vs. pitched)
Roof material and style
The size of the damaged area
Whether the roof is easily accessible for commercial roof repairs
The extent of water damage
We make owning the highest quality roofing system more affordable than ever. Explore SlopePro's roofing financing options and enjoy payments as low as $97/month**!
SlopePro's Commercial Roof Replacement Process
Our RoofPerfect Process makes replacing your business' roof painless. We're with you every step of the way. Each SlopePro project includes a dedicated Account Manager to keep you and your business in the loop with clear communication and a Master Roofer who oversees your facility's project from start to finish.
Our Commercial RoofPerfect Process
Goals are assessed
No-pressure replacement options are reviewed
Agreement is signed
Building is prepped
Demolition begins
Roof is installed
A second forensic inspection is performed
Your business's roof, perfected
SlopePro offers commercial roof replacement to Central Virginia and Southern Atlanta, Georgia:
Commercial Roof Replacement FAQs
Does insurance pay for commercial roof replacement?
Whether your insurance pays for a commercial roof replacement depends on how the roof was damaged. For example, it may cover the costs of storm damage. However, if you're considering replacement because it's time to update your facility's roof, insurance typically won't pay for damage caused by age and normal wear and tear.
What should I know before replacing my business's roof?
If your roof damage was not caused by a storm, we highly recommend calling a roofing company before contacting your insurance company. Since insurance typically only covers storm-related damage, our team can evaluate the damage and offer you a smarter solution that won't increase your insurance rates.
How long will it take to replace my business's roof?
The time it takes to replace your business's roof can vary. Typically, a Richmond or Georgia commercial roof installation takes three to fifteen days. However, size, scope, and roof material can shorten or extend that timeline. A SlopePro contractor can provide a custom estimate after an initial inspection.
Will a new roof damage my property or disrupt business?
If properly and expertly installed by a professional, your facility's new roof will not cause damage to your property. SlopePro takes pride in our efficient commercial roof installations and extensive clean-up measures. Our team will respect your property and leave the area exactly how we found it and, as always, we are committed to a prompt and professional experience that won't disrupt your business.
*Lifetime Guarantee: SlopePro will match our workmanship warranty to the material warranty of each new roof we install. For example, if we install a 30-year shingle, we will guarantee our workmanship for 30 years. Ask your customer service representative for more details.
**Per $10,000 financed.