Roofers in Chesterfield, VA
Chesterfield and surrounding neighborhoods like Chester and Bellwood offer something no other area near Richmond does – secluded estates with large lots, updated features, unique facades, and perfect roofs to match.
But when your roof suffers damage, it's critical to move quickly before mold and water stains sink in or the structure of your home weakens. But not all repairs are created equal. With our high level of expertise, we can offer a range of solutions, from repair all the way to full replacement.
Our family-owned and operated company has the precision and experience to make customized home roofing repairs or replacements that make sense for you. Plus, we are the only roofing company in Virginia to offer a Lifetime Transferable Guarantee*.
---
How to Upgrade Your Chesterfield Roof
No matter the size or scope of the job, a SlopePro expert will walk you through every step of the roof repair or replacement process.
1. Get A Comprehensive Roof Inspection

Our 12-point inspection evaluates every inch of your roof so that we can provide you with the most accurate estimate. This step takes anywhere from 30 minutes to an hour.

2. Review Your Estimate

Forget upsells or obligations – our estimate simply provides you with a competitive and thorough estimate to restore or repair your roof.

3. See Quality Results

From inspection to clean up, we move quickly without sacrificing our craft.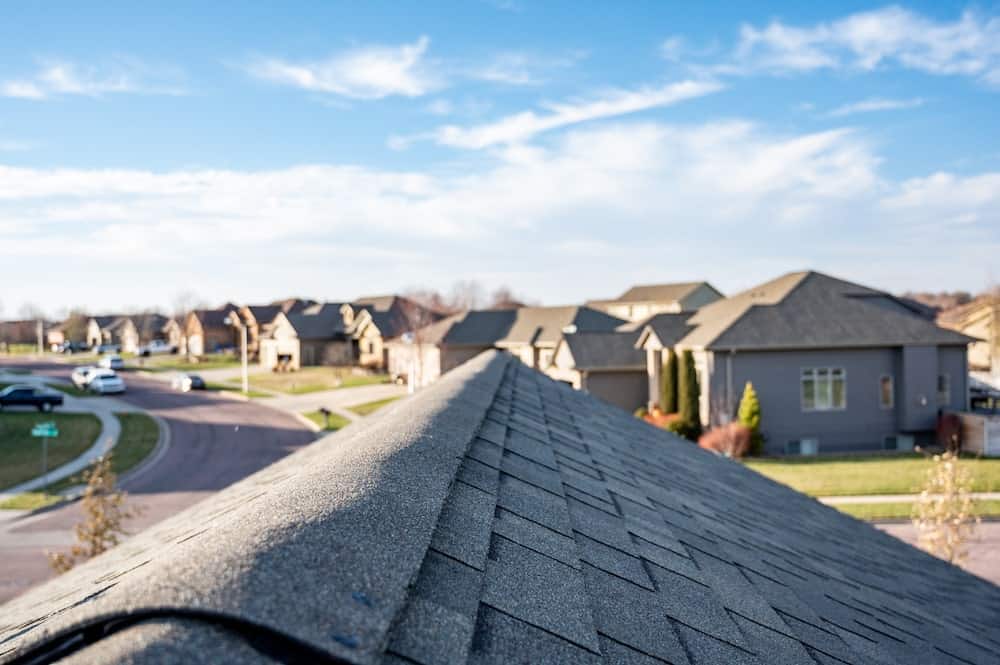 Chesterfield Roof Repair
Roof damage has many causes: old age, poor installation, strong winds – the list goes on. Our three-generation roofing company has seen it all.
No matter the cause of your roof damage, always call a professional right away before minor repairs worsen and require more costly roof replacements.
Even before you call your insurance company, let us review the scope of the damage to your roof and recommend the best repair strategy.
With our technical training and 12-point inspection process, we're able to identify all points of damage to the inside and outside of your roof. We take our time to understand the problem in order to offer the best solution and the most accurate time and cost estimates.
Chesterfield Roof Replacement
A roof replacement is needed if more than 30-50% of your roof is damaged, or if your roof is 20+ years old. In these cases, roof replacement is both more economical and more effective than repairs. A replacement means you won't have to worry about a new roof for many, many years.
We take pride in our work and our reputation, which is why no detail is ever overlooked. We will set your home up with new plywood decking, underlayment, shingles, fasteners, and flashing. All projects have a Master Roofer on-site because precise installation by trained craftsmen is the key to long long-lasting roof results.
Storm Damage Roofing Services Chesterfield
Not only are storms scary, but they can also leave behind significant damage in their wake. As a family-owned company, we know it's important to feel safe in your home. To keep repairs moving, we'll provide you and your insurance company with a detailed analysis of repairs and work with your insurance company's adjuster.
What makes storm damage dangerous is that not all damage can be seen with the naked eye. It's important to hire a Chesterfield roofing contractor who knows where to look and what to look for, including damage to vent caps, downspouts, or shingles in addition to leaks. To help protect you and your loved ones from the elements, our team won't quit until the job is done the right way.
Financing Roof Repair Services
A damaged roof can be a costly, unexpected expense. And unless you've been saving up for roof repairs, you might not have the cash on hand to schedule immediate repairs.
Our family-owned and operated company is committed to keeping families like yours feel safe in their homes. That's why we offer roof financing options, empowering homeowners to restore their houses after suffering roof damage. Protect your home with our short-term, long-term, and 0% interest options.
Factors that Impact the Cost of a New Roof
By providing you with a custom quote, we can identify the factors specific to your property that could impact the price. Some of those factors include:
Roof type (flat vs pitched)
Roof material and style
The size of the damaged area
Whether the roof is easily accessible for repairs
The extent of water damage
Roofing Materials
We've worked with every type of roofing material and brand. Our professionals are trained on the precise steps needed for a proper install when it comes to:
Repair or Replace Your Chesterfield Roof Today
It's hard to miss the Chesterfield neighborhood. Close to the James and Appomattox rivers, the nature-filled area is populated with traditional low-pitched homes, two-story neoclassics, and contemporary flat-roofed dwellings. But all of these homes are susceptible to roof damage.
While roof damage is unpredictable, you can rely on SlopePro for a seamless and professional repair or replacement experience. By prioritizing good communication and good information, we've reimagined the customer experience. Give us a call at (804) 585-3141 or contact us today to get started on your roofing needs!
Chesterfield Roofing FAQs
How do I know if I need a roof inspection?

If you are planning to submit a claim to your insurance company, you will need an inspection to provide to your insurance adjuster. Otherwise, we recommend homeowners get annual inspections to stop early signs of damage before they get worse.

How long will it take to fix my roof?

The time it takes to fix your roof can change depending on numerous factors, like size, scope, and roof material. However, it usually takes anywhere from one to 12 days to replace a Virginia roof and one to two days to complete repairs.

What are the most common roofing problems?

The most common roofing problems Virginia homeowners experience are damaged flashing, roof leaks, broken or missing shingles, granules clogging downspouts, freeze damage, and storm damage (strong winds, hail, fallen trees, or branches).