Roofing Services in Henrico, VA
The trouble with roof damage is that once you notice it inside your home, like leaking or water stains, the damage has already had time to spread. That's why you should call a professional Henrico roofing contractor right away. But how do you know which contractor to choose?
Only SlopePro offers homeowners a Lifetime Transferable Guarantee*. Most roofers offer you a 20-, 30- or 40-year warranty on materials and only a 1- or 5-year guarantee on installation. But we're so confident in our craft, we back our work for the lifetime of the material warranty. Our guarantee is a reflection of our team's commitment to quality, honesty , and value.
---
How to Upgrade Your Henrico Roof
We make repairing your Henrico roof easy and stress-free, no matter the size or scope of the job. From start to finish, we'll keep you informed on the project status and answer any questions you may have along the way.
1. Get A Comprehensive Roof Inspection

Our 12-Point Forensic Inspection ensures we uncover all signs of damage, including the exterior and interior of your home. This step takes anywhere from 30 minutes to an hour and will give you the honest truth about your roof.

2. Receive a Custom Analysis and Repair Estimate

Get a detailed report of your roof, along with a custom, clear-cut estimate, and have one of our professionals walk you through it. No smoke or mirrors – just an honest, competitive quote.

3. See Quality Results

Restore the functional and aesthetic features you like most about your home with a quality roof to protect it.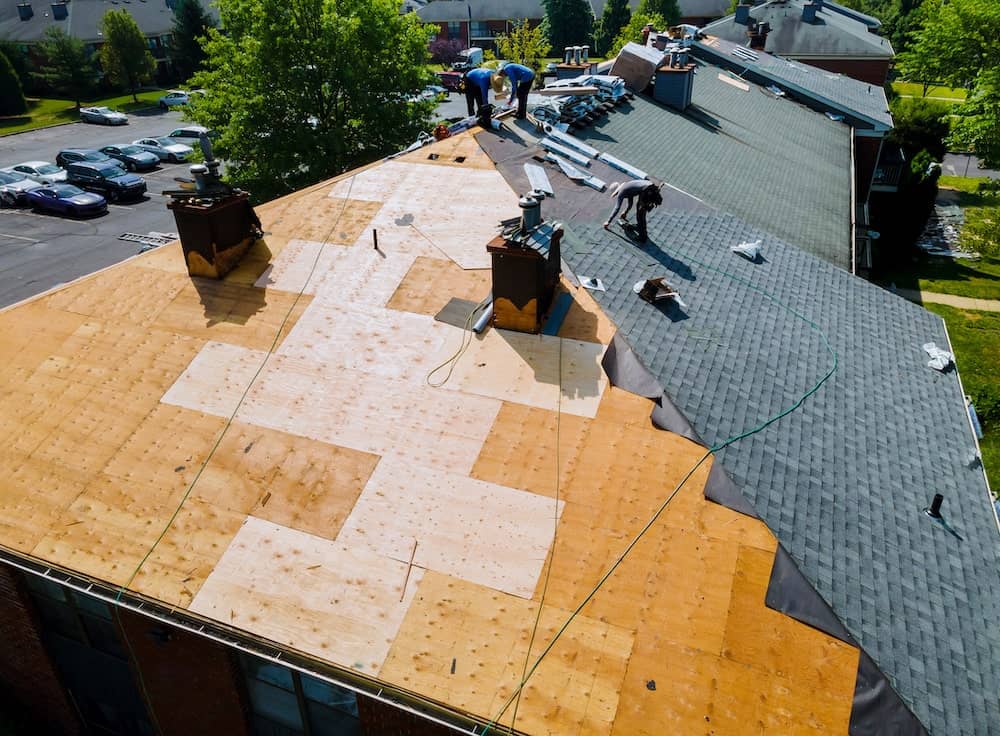 Henrico Roof Repair
Even the smallest repair is important to protect the integrity of your roof, especially if you can stop minor damage from becoming worse. Our thorough inspection process will locate any damage, large or small, and map out the next best steps to restore your roof.
Whereas some roofing contractors might rush the process and encourage you to file a claim, we take the time needed to thoroughly evaluate what needs fixing and why. We take that information and condense it into an easy-to-read estimate that we'll walk you through, step by step.
---
Henrico Roof Replacement
A roof replacement is a major undertaking, and no one feels the pressure to find a quality contractor more than homeowners. But the pressure and lack of roofing knowledge can lead some homeowners to rush into costly decisions that could result in poor results.
The SlopePro experience is different. After we've identified areas of your roof that need to be fixed, the next step is to just listen. Whether you want better energy savings, something to make your home stand out, or the most cost-effective option, listening to you is how we craft the very best roofing strategies, along with accurate itemized estimates.
---
Storm Damage Services in Henrico
Not even the beautiful Old Dominion is immune to strong winds, surprise hail, or falling trees. Every year, Virginia homeowners deal with storm damage to their homes. The best way to weather future storms is by having a quality, updated roof to protect your home.
With three generations of roofing experience, SlopePro is a trusted roofing contractor that knows how to work with insurance adjusters and homeowners alike. We take our time to uncover the right repairs and, later, to complete those repairs the right way.
Storm damage to your roof can occur in an instant, so you need a roofing company you can trust to make repairs quickly and with total transparency. That's why SlopePro's honesty, quality craftsmanship, and value—along with the industry's best guarantee and longest warranties—sets us apart from competitors.
---
Financing Roof Repair Services
Even minor roofing issues can lead to larger, unexpected damages. While most homeowners only have to replace a roof once or twice in their lifetime, those times often come unannounced and unplanned. That's why we offer financing options so you can move quickly and repair your roof before the problem worsens. With rates as low as $97/month**, our short-term, long-term, and 0% interest financing options make it easy to protect your home in an instant.
---
Factors that Impact the Cost of a New Roof
No two roofing estimates are alike because we customize them specifically to your home. Factors that can impact your estimate include things like:
Roof type (flat vs pitched)
Roof material and style
The size of the damaged area
Whether the roof is easily accessible for repairs
The extent of water damage
---
Roofing Materials
Compared to SlopePro, it's hard to find other roofing contractors who blend old-school craftsmanship with cutting-edge materials and installation, for every roof type, including:
Asphalt shingle roofing the most common and popular option for homeowners
Metal roofing a more robust solution for longer-lasting roof protection
Flat roofing for large buildings needing an economical solution
---
Repair or Replace Your Henrico Roof Today
Henrico has a rich history that dates back to the 1630s, making it one of the oldest political subdivisions in Virginia. The homes in Henrico vary in residential architectural styles, but the majority of homes are single-family dwellings dating back to the end of World War I.
Older or historic roofs like those in Henrico require a high level of expertise when it comes to home roof replacements or repairs, making it hard to find a qualified contractor.
We know how frustrating unplanned roof damage is, especially to a historic home you love. Let us take some of the stress off your plate and start restoring your home immediately. With three generations of experience, we can handle every roofing system.
Give us a call at (804) 585-3141 or fill out the form below to get started on your roofing needs today.
---
Henrico Roofing FAQs
What questions should I ask a potential roofer?
The very first question you should ask a roofing contractor is whether they are licensed and insured. From there, you'll want to ask about their experience (to make sure they have dealt with a similar roof type) and to speak to a former customer about their experience.
How long will it take to fix my roof?
Certain factors like size, scope, and roof material will have an impact on the repair timeline, but generally, new roofs can be installed in one to twelve days and repairs can be completed in one to two days.
What are the most common roofing problems?
When it comes to roofing, Virginia homeowners commonly experience issues with damaged flashing, roof leaks, broken and missing shingles, freeze damage, and even granules from asphalt shingles in downspouts.
*Lifetime Transferable Guarantee
**Per $10,000 financed.
---