Roofers in Glen Allen, VA
Glen Allen is your suburban hideaway near Richmond, with a vast array of homes to love from Grey Oaks and Hampshire to Longdale or Elmont. Single-family homes with stone facades are as common as first-floor villas in Glen Allen, and no matter your home's style, roof damage isn't part of the equation.
At SlopePro, we know that dealing with a damaged roof is stressful for any homeowner. What shouldn't be stressful is finding a roofing contractor you can trust. That's why the SlopePro customer experience is backed by our Lifetime Transferable Guarantee*. We believe in the quality of our work, and we stand behind it.
---
How to Upgrade Your Glen Allen Roof
We don't use a one-size-fits-all approach to roof repairs. Rather, we take our time explaining our detailed scope of work and custom estimate, so you know exactly what to expect and how long the process will take.
1. Get A Comprehensive Roof Inspection

Our estimates and timelines are based on your roof, your priorities, and your aesthetic. We will conduct a 30-minute to one-hour inspection that looks for interior and exterior damage.

2. Review Your Estimate

We give you key information about your roof and the repairs it needs at face value—no fluff or filler. Expect nothing short of honesty and transparency from our roofing professionals.

3. See Quality Results

Your house is a representation of you, so you can finally feel back to normal after your roof replacement is complete.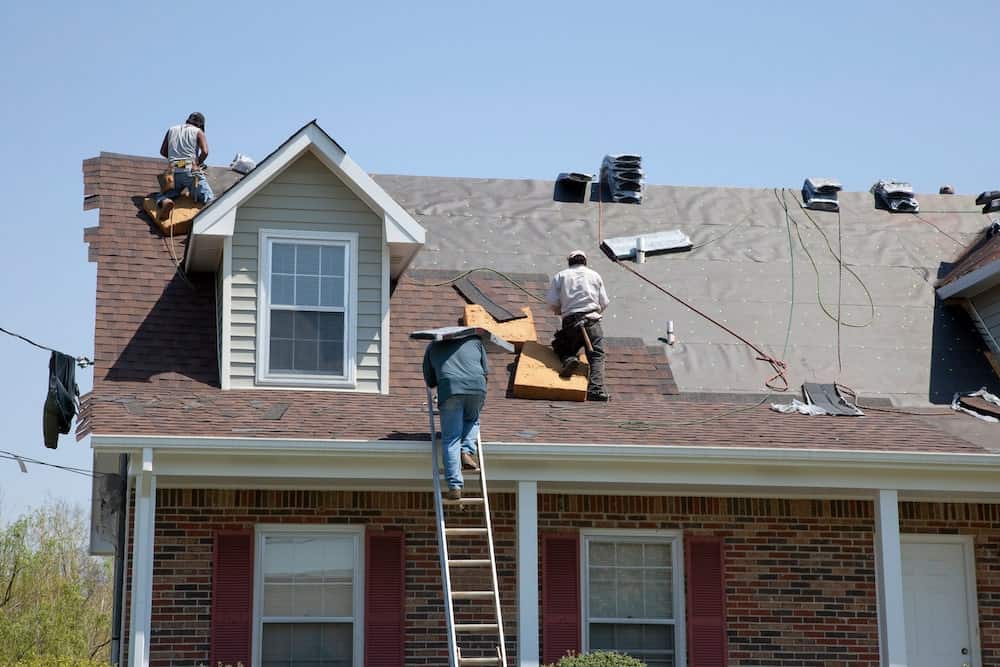 Glen Allen Roof Repair
What most homeowners don't know is that there is a science to roofing. Instead of potentially damaging your roof by trying to fix a problem yourself, get a quick estimate from SlopePro. Our detailed 12-point inspection process will identify every repair needed, even ones you might have missed.
We understand the pressure you're under to get your home back to its original state. In response, we work quickly and accurately, providing transparent estimates and timelines. This ensures you have the information to make an informed decision about your roof.
---
Glen Allen Roof Replacement
While the quality and type of materials you use when replacing your roof are important, they're not nearly as important as the craftsmanship needed during installation. Even the highest-quality roofing materials will need to be replaced well before their shelf life if they are poorly installed.
The key to a successful roof replacement is simple: meticulous craftsmanship. For three generations, our family-owned and operated roofing company has perfected our craft, using only the best asphalt, metal, slate, and copper roofing systems.
All our roof replacement estimates are tailored to your home. We take into account whether you have a historical house, the size and scope of the damage, and the age of your roofing structure, as well as your desired look and overall budget.
Storm Damage Services in Glen Allen
While storms and the damage they cause are unpredictable, fixing your roof should be straightforward. That's the experience you'll get working with SlopePro. We know how to advocate for homeowners and collaborate with insurance adjusters to get home roof repairs or replacements underway.
No type of roof storm damage is too small to ignore, from small dents to complete replacements. Being proactive can prevent damage from getting worse. Virginia sees its fair share of strong winds, rainfall, and temperature drops – all of which can damage the integrity of your roof. With our 12-Point Forensic Inspection, we'll address every damaged area, inside and out.
Financing Roof Repair Services
When your roof and home are exposed to damage, you want to do everything you can to fix the issues quickly. But the short time frame can put a financial strain on some homeowners and prevent them from getting the repairs they need. At SlopePro, we don't think finances should stand in your way. With our short-term, long-term, and 0% interest options, you can afford to restore your home through our easy financing options.
Factors that Impact the Cost of a New Roof
Every roof is different, so we don't offer one-size-fits-all estimates. Instead, we take the time to identify the unique needs of your damaged roof, which are impacted by factors like:
Roof type (flat vs pitched)
Roof material and style
The size of the damaged area
Whether the roof is easily accessible for repairs
The extent of water damage
Roofing Materials
All of our expert roofers undergo continuous training to correctly install all roof types, including:
Repair or Replace Your Glen Allen Roof Today
Glen Allen is a beautiful sprawling suburb, but the area's historic mansions and transitional two-story homes are hard to protect against roof damage.
At SlopePro, we abide by honesty, quality, and constant communication, especially when it comes to repairing your home. Whether the roof over your head is Folk-Victorian style, Georgina style, or a typical sloped asphalt system, we have the experience to deliver a superior experience.
Give us a call at (804) 585-3141 or contact us today to get started on your roofing needs!
Glen Allen Roofing FAQs
How much does it cost to fix my roof?

The total cost to fix your roof depends on numerous factors, like material type and the size of the damage. However, most of our Virginia roof repairs start from $350 for simple things such as caulking; roof replacements can start at $10,000.

Do I need a roof repair or replacement?

A visual inspection of your roof can give you an indication as to whether you need repair or replacement services, though to be sure, you should schedule a professional inspection. If you notice missing shingles, granules in your downspout, or water stains or leaks, those are clear signs to call a roofing professional right away.

Which type of roof is best?

The best type of roof material depends on what you want from your roof. If you want the ultimate protection and life span, a metal roof is ideal. However, a more popular and cost-efficient option is asphalt shingles. Asphalt shingles come in a wide range of colors and can more easily match your desired aesthetic.