No matter how your roof has suffered damage, it's critical to take care of the repairs as soon as possible to prevent further issues with your home. SlopePro will come right out to your home in Griffin to perform an evaluation and make a plan on how to proceed.
Our family-owned and operated company makes home roofing repairs or residential roof replacements that fit your budget and timeline. Unlike other roofers, who offer 20, 30, or 40-year warranties on materials and only 1 or 5-year guarantees on installation, SlopePro offers double the roofing warranty. That means we match material warranties with our quality service installation. You can count on our craftsmanship and feel secure in the job we've done, because we know how important your home is.

How to Upgrade Your Griffin Roof
No matter the size or scope of the job, a SlopePro expert will walk you through every step of the roof repair or replacement process.
We utilize a 12-Point Forensic Inspection to fully investigate the state of your roof and provide the most accurate information about what the job will require.

2. Receive a custom analysis and repair estimate

Our detailed report is an honest, straightforward explanation of your repair with a competitive estimate, so you can be sure you're receiving a great deal.

3. See quality results

From inspection to clean up, we take care of everything so you feel completely satisfied with your roof update.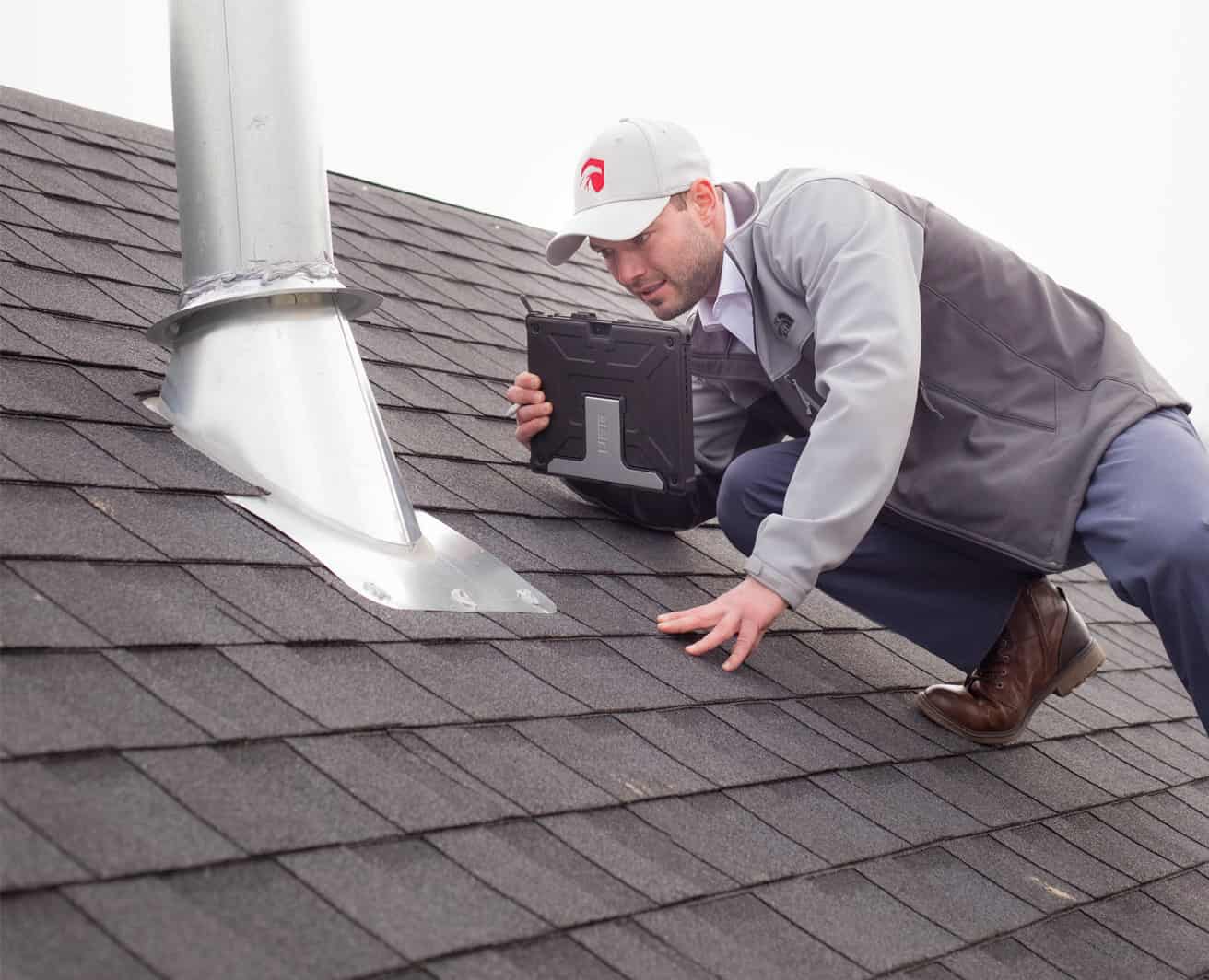 Griffin Roof Repair
Roof damage has many causes, from old age to poor installation or strong winds. Our three-generation roofing company knows how to take care of it all. Don't wait to schedule a repair once your roof is damaged, as that can lead to a more costly replacement. Repairing your roof will feel easy with SlopePro, who will review the damage to your roof, recommend necessary repairs, and work with your insurance company as we go.
With our honesty and 12-Point Forensic Inspection, we identify all points of damage to the inside and outside of your roof. We take our time to understand the problem in order to offer the best solution and the most accurate time and cost estimates.
Griffin Roof Replacement
A roof replacement is needed if more than 30-50% of your roof is damaged, or if your roof is 20+ years old. In these cases, you're better off replacing your roof with a new one that will last longer and prevent the need for more repairs down the road.
Our professional team uses high-quality materials to ensure your replacement is a seamless and beneficial experience. We will set your home up with new plywood decking, underlayment, shingles, fasteners, and flashing, improving the look, feel, and safety of your home. All projects have a Master Roofer on-site to oversee precise installation by our trained craftsmen, leading to long-lasting roof results.
Storm Damage Roofing Services in Griffin
When a storm hits, you never know how much damage it will leave behind. As a family-owned company, we know it's important to feel safe in your home. We'll work with you and your insurance company throughout the repair process to maximize your claim and get the repairs done efficiently.
It's important to hire a Griffin roofing contractor who knows how to handle the many complexities of roof repair, including where to look and what to look for. Roof storm damage to vent caps, downspouts, or shingles in addition to leaks may be difficult for the untrained eye to see. Protect your family by hiring SlopePro to handle your repair the right way.
Financing Roof Repair Services
A damaged roof can be a costly, unexpected expense. Roof maintenance is easy to put off scheduling, but it's important to do so to keep your home protected and safe.
That's why we offer roof financing options, enabling homeowners to restore their houses after suffering roof damage, no matter what situation they're in. With our short-term, long-term, and 0% interest options, you can enjoy payments as low as $97/month*.
Factors That Impact the Cost of a New Roof
Our inspections identify the specific issues with your roof so we can provide you with a custom quote that best reflects the price of your repair or replacement. Some of the factors that affect the price include:
Roof type (flat vs. pitched)

Roof material and style

The size of the damaged area

Whether the roof is easily accessible for repairs

The extent of water damage
Roofing Materials
We know every type of roofing material and brand available, and we can work with you to find the best solution for your home. Our professionals are trained on the precise steps needed for a proper install when it comes to:
Repair or Replace Your Griffin Roof Today
It's hard not to love Griffin, with its quaint downtown area and natural surroundings. Your home may be older and full of Southern charm or stylish and modern, but all of these homes are susceptible to roof damage.
Whether you've recently been stricken by a storm or you've noticed simple wear-and-tear on your roof, you can rely on SlopePro for a seamless and professional repair or replacement experience. We prioritize clear communication and easy-to-understand information, so a big roofing job can feel like a breeze.
Give us a call at (804) 251-3006 or fill out the form below to get started on your roofing needs today.
Griffin Roofing FAQs
---
How do I know if I need a roof inspection?
If you're planning to file an insurance claim, a roof inspection is necessary to provide the required report to your insurance adjuster. In other cases, we recommend homeowners to opt for annual inspections to proactively identify and address early signs of damage before they worsen.
---
How long will it take to fix my roof?
The time required to fix your roof varies based on factors such as size, scope, and roof material. Generally, roof replacement in Georgia can take anywhere from one to 12 days, while repairs are typically completed within one to two days.
---
What are the most common roofing problems?
Georgia homeowners commonly encounter roofing problems, including damaged flashing, roof leaks, broken or missing shingles, clogged downspouts due to granules, freeze damage, and storm-related issues such as strong winds, hail, fallen trees, or branches.
*Per $10,000 financed.